Make It a Birthday to Remember!
Let us host your child's next super fun, robot-filled, birthday celebration! Your child and their friends will each get to build an awesome moving robot, as well as take part in other fun activities, led by our amazing teachers. Our parties are unique, creative, memorable and FUN for all!
THE BASICS
Each child will build and decorate their own moving robot.
Children 2-5 years will each need to attend with an adult. Parties for children 6-11 are considered drop-off events.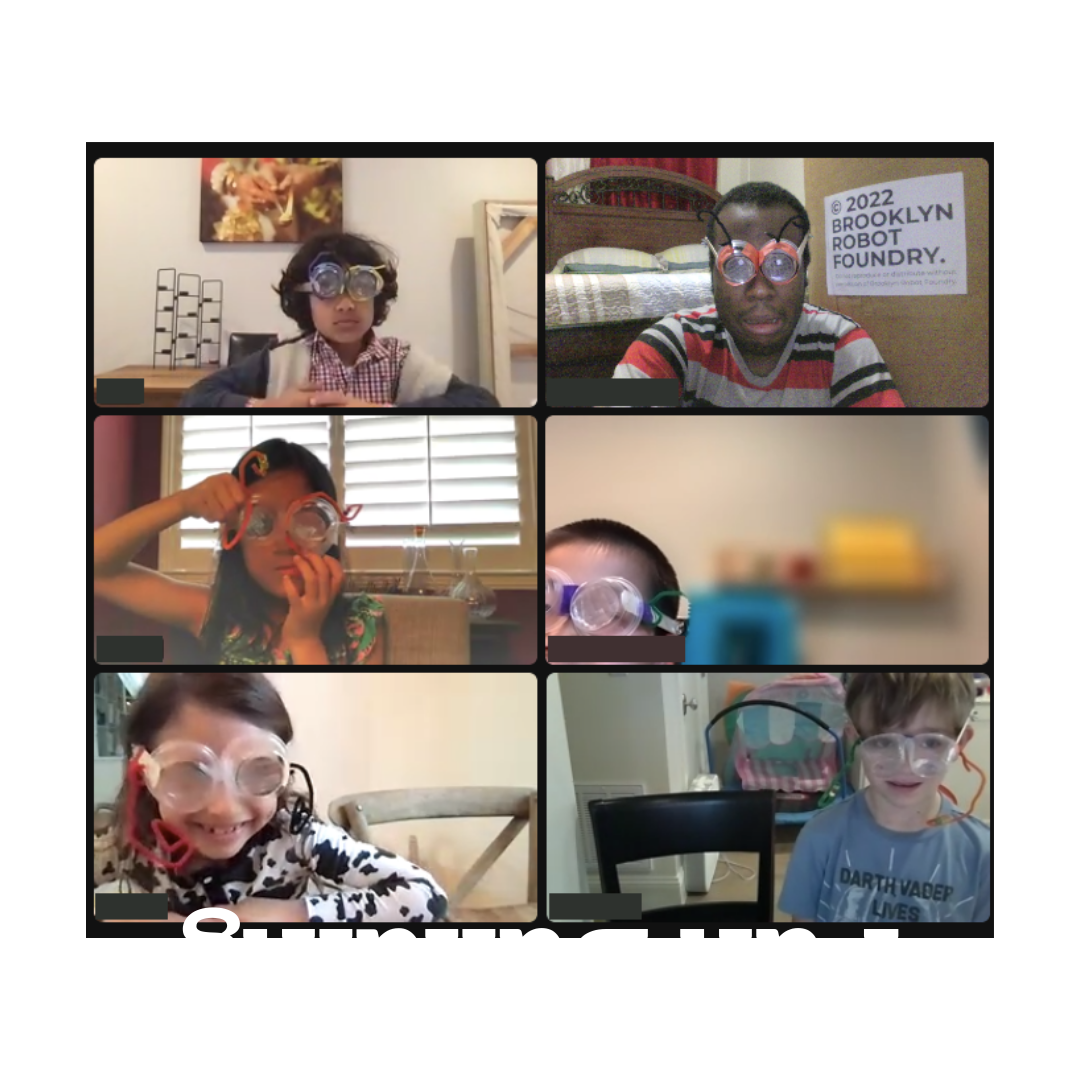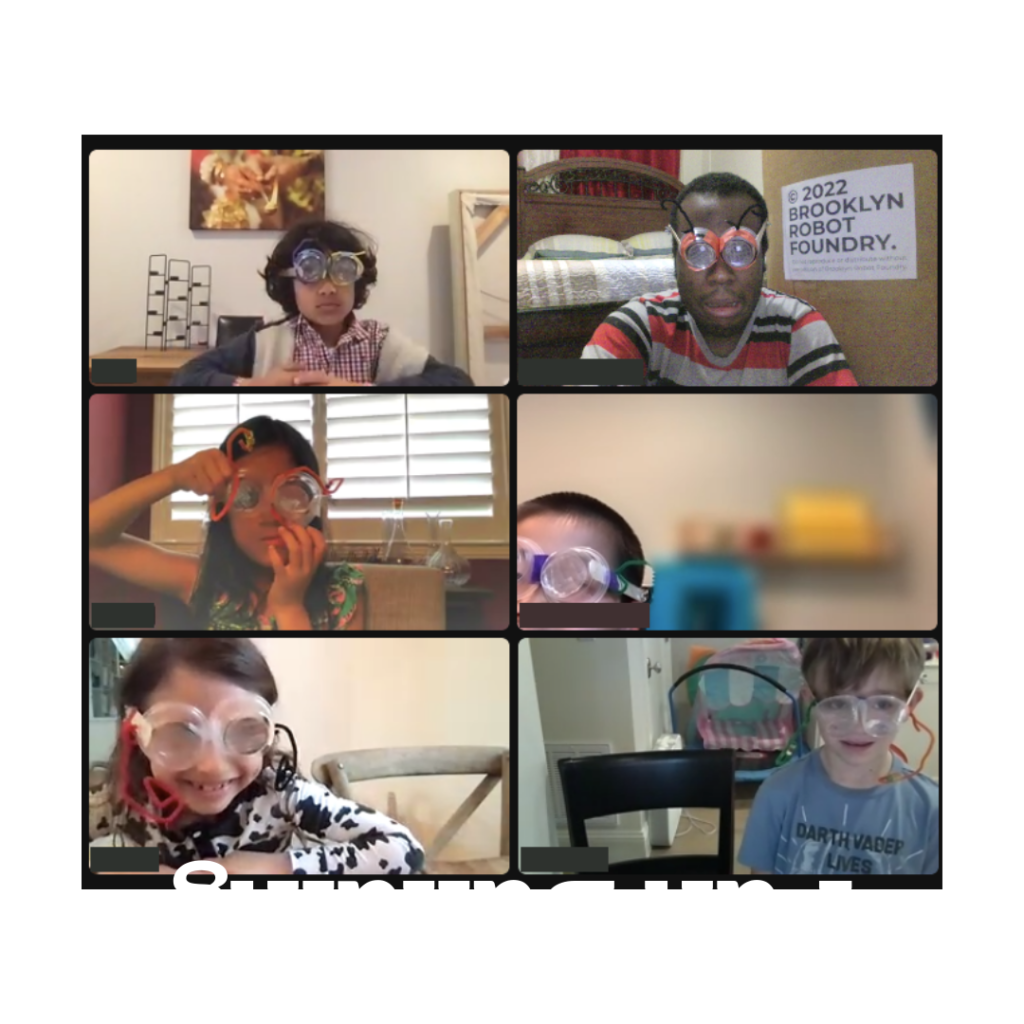 Parties are available by request most weekends and select evenings at our studio in Brooklyn (98 4th Street).
Parties typically run 1.5hours, allowing for robot-building, cake time, and other fun.
THE ROBOTS
THE PRICING
| | | | | | |
| --- | --- | --- | --- | --- | --- |
| PARTY | SIZE | TEACHERS | BASE PRICE | KIDS INCLUDED | COST PER ADDITIONAL CHILD |
| Small | up to 8 kids | 1 | $375 | 6 | $60 |
| Medium | 9 – 16 kids | 2 | $475 | 6 | $60 |
| Large | 17 – 24 kids | 3 | $575 | 6 | $60 |
When booking your party, please choose the largest size you think you'll need so we can reserve the proper number of teachers. You can change the size up to 4 days before the event based on your RSVP's but we can't guarantee we can increase staffing at that point. You will only be charged for the children who attend the party (after the 6 minimum).
MORE DETAILS
What makes Robot Foundry parties so special is that each child gets to build their very own moving robot, and then get creative, customizing it however they desire.
We work with the children as we build, giving them plenty of guidance and support. We also allow for plenty of socializing and celebrating – this is a party after all! We want to make sure that everyone has a great time celebrating and will work with you to incorporate any necessary accommodations.
We also want to make sure this is easy for parents. Once the party is booked, all you'll have to do is show up and watch the fun! You're welcome to bring a cake to complete the celebration.
MORE OPTIONS
We offer a variety of party favors for your guests – choose as many as you'd like!
FAQ's
Do children need any prior building experience?
No! Our unique teaching method and low student:teacher ratio allow children to build independently right from the start. Children 2-5 years old will need to build alongside their adult.
Can I host my party next week?
Maybe! We generally require at least 2 weeks notice, so all of the materials can be prepped. Reach out to us to check for availability.
Will I pay based on the number of guests invited or the number that attends?
Initially you will be charged the full price of the party you've booked, at the maximum size you choose.
IF LESS GUESTS ATTEND THAN BOOKED: You will be refunded for any children who do not attend, beyond the minimum 6. Please note that we can not refund any of the base price for the size of the party you've booked, even if significantly less children attend, since that covers the cost of the staff running the event.
IF MORE GUESTS ATTEND THAN BOOKED: You will be charged $60 per additional guest, as well as a gratuity of 20% of the entire party cost to cover the extra work for the teachers. Please note that our robot parties are very popular. We often get feedback from customers that nearly all of the invited guests attend the parties.
What if I have more than 24 children to invite?
Reach out to us – we might be able to accommodate up to 32 guests if our staff is available. We also may be able to accommodate your party online. Please read more about our online parties here. *Parties for children 5 and under are limited to 10 children + their grown ups.
Is gratuity for the staff included in the party price?
If you have more guests attend than booked, you will be charged a mandatory 20% gratuity on your entire event, in addition to the additional guest fees.
In all other situations, gratuity is completely at your discretion. If you think the staff did an outstanding job and you want to tip them, feel free to do so. If you prefer to pay the tip by credit card, we can send you a link after the party.
Should the parents of the guests stay for the party?
The parties are designed as drop-offs starting at age 6. While parents of guests can stay, we find that parties often work better as drop-offs due to size and noise constraints of the space. If parents do stay, we suggest limiting it to one parent per child for parties of 10 or fewer children. We advise adults that the kids seem to enjoy themselves more if they are allowed to build the robots on their own. All parties of 11 or more children must be drop-off due to size constraints.
If younger siblings attend but do not build robots, do they count towards the child count?
No, only children who build robots count towards the child count. Please keep in mind though, this also means our staff will be focussing on teaching during the event and will not be able to attend to younger children.
Are masks or vaccinations required?
We follow all current NYC and DOE protocol. If masks and proof of vaccine are not currently required, you may still choose to require them for your event.
May I come early to set up?


Sure, you can arrive up to 30 minutes before your scheduled party start time. But please make sure your guests don't arrive until the actual start time.
Can we bring balloons and other decorations for the party?
Sure. Our teachers will do their best to help you set up however they will also be setting up the robot-building portion of the party and getting the space ready. If you intend to bring a lot of additional items, please be sure you arrive 30 minutes before your scheduled start time and with a buddy to help you set up the decorations!
Are there things that we cannot bring to the party?
The party timeline is packed, so please avoid bringing any additional activities. We also ask that you do bring glitter or confetti, as they're so hard to clean up, as well as inflatable swords, noisemakers, piñatas, or anything else that might cause the children to get too rowdy!
Will the party start right at the start time?
Typically, all of the people arrive by about 10/15 minutes after the start time of the party. We entertain the kids while the others arrive. We talk with the host parent to determine when enough children are present to start the activity.